Overview
This course allows you to choose from a range of modules according to your interests and career aspirations (focusing mainly on physical geography).
It offers a broad and flexible programme of study, which will equip you with the necessary skills of analysis and synthesis to critically understand information from a wide range of sources.
There are opportunities to travel to inspirational destinations in the UK and overseas, through a number of modules with a field trip element.
Year one
The first year is a foundation programme covering human and physical geography and geographical information science. You are encouraged to choose geography options appropriate to your BSc degree or other modules at an appropriate level from across the University. Many students opt to study languages, the social and natural sciences or engineering, in addition to modules offered by the School of Geography.
Year two
In year two, you will have fewer core modules and more opportunity to choose from a range of modules appropriate to your BSc degree. You'll have the opportunity to pursue 20 credits of appropriate modules from outside geography, subject to approval.
You can also apply to spend a semester of your second year studying abroad, taking similar modules to your counterparts back in Nottingham or expanding your knowledge through other options.
Year three
In year three the dissertation is the sole core module. Alongside this you can choose from a range of advanced modules appropriate to your BSc degree and your year two optional choices.
Key facts
Entry requirements
A-Levels: AAB including geography or equivalent (environmental science, environmental studies or world development), excluding general studies and critical thinking; a pass is required in science practical test if assessed separately
GCSEs: GCSE maths, 4 (C) or above
English language requirements
IELTS: 7.0 (no less than 6.0 in reading, writing, speaking and listening)
For details of other English language tests and qualifications we accept, please see our entry requirements page.

If you require additional support to take your language skills to the required level, you may be able to attend a presessional course at the Centre for English Language Education, which is accredited by the British Council for the teaching of English in the UK.

Students who successfully complete the presessional course to the required level can progress onto their chosen degree course without retaking IELTS or equivalent.
International applicants
For country-specific information including entry requirements, contact details and representatives, see our website. If you need a visa to study, the University can provide all the information and advice you need.
Mature students
At the University of Nottingham we have a valuable community of mature students and we appreciate their contribution to the wider student population. You can find lots of useful information in our guide for mature students.
Alternative qualifications
Our admission process recognises that applicants have a wealth of different experiences and may have followed various educational pathways. Please view the alternative qualifications page for details.
Flexible admissions poilcy
In recognition of our applicants' varied experience and educational pathways, the University of Nottingham employs a flexible admissions policy. We may make some applicants an offer lower than advertised, depending on their personal and educational circumstances. Please see the University's admissions policies and procedures for more information.
Notes for applicants
We are looking for students who have the ability and motivation to benefit from our courses, and who will make a valued contribution to the school and the University. Candidates are considered on the basis of their UCAS application.
All applications are considered equally on merit; students are usually selected on the basis of academic excellence and personal qualities. We do not rely on predicted grades alone but take into account the broader context of your achievements, primarily as reflected by your engagement with geography beyond studying it as an academic subject - as evidenced in your personal statement and reference.
Applicants are not routinely interviewed. If you are offered a place with the School of Geography, you will be invited to attend an offer-holder event. The aim of this event is for you to ensure that Nottingham meets your needs and aspirations. You will be able to meet members of the teaching staff and, very importantly, some current undergraduates.
Modules
The following is a sample of the typical modules that we offer as at the date of publication but is not intended to be construed and/or relied upon as a definitive list of the modules that will be available in any given year. Due to the passage of time between commencement of the course and subsequent years of the course, modules may change due to developments in the curriculum and the module information in this prospectus is provided for indicative purposes only.
Typical year one modules
Core modules
Earth and Environmental Dynamics
Exploring Human Geography
Geography Field Course
Interpreting Geographical Data
Introduction to Geographic Information Systems
Tutorial
Careers Skills for Geographers
Optional modules
Physical Landscapes of Britain
On Earth and Life
Exploring Place
Tracing Economic Globalisationhical
Typical year two modules
Core modules
Research Tutorial
Dissertation Preparation
Techniques in Physical Geography
Optional modules
Environmental Change
Mineralogy and Petrology
Patterns of Life
River Processes and Dynamics
Sedimentology and Palaeontology
Digital Explorers: Finding Geospatial Patterns in a Changing World
Cultural and Historical Geography
Economic Geography
Medical Geography
Rural Environmental Geography
Urban Geography
Typical year three modules
Core modules
Optional modules
Environmental Informatics and Modelling
Global Climate Change
Practical River Management and Restoration (Mount St. Helens field course)
Quaternary Environments (Mexico field course)
Scale and Diversity in the Canary Islands
Geospatial Technologies: Mobile, Augmented and Virtual
Environment, Development and Livelihoods
The Landscape History of Liguria (Italy field course)
The Cultural Geography of English Landscape
European Urban Geographies (Berlin field course)
The Geographical Imagination
Geographies of Fashion and Food
Geographies of Money and Finance
Geographies of Violence
North American Urban Geographies (New York field course)
Study abroad
On this course, you can apply to spend a semester studying abroad at one of our partner institutions in locations such as Australia, Canada, Europe and the USA.
You will get the opportunity to broaden your horizons and enhance your employability by experiencing another culture. You can choose to study similar modules to your counterparts back in Nottingham or expand your knowledge by taking other options. Teaching is typically in English; however, there may be opportunities to study in another language if you are sufficiently fluent.
We also offer field trips to develop your practical skills, with international locations including Italy and the USA.
"Fieldwork is an integral part of the geographical study, and the opportunities to gain valuable practical experience within the School of Geography at Nottingham were fantastic."
Jack Starbuck, BSc Geography
Careers
As a graduate from the University of Nottingham, you will be highly sought after, and by studying a degree in the School of Geography, you will acquire a broad skill set that will lay the foundations for your chosen career.
Employability is at the heart of our teaching, and we ensure that all of our degrees will equip you with the essential skills and knowledge that employers are looking for. Our comprehensive careers programme includes one-to-one CV workshops and employer talks from school alumni, as well as career networking events.
Our graduates go on to a wide range of careers. Some enter roles that have a direct correlation to their degree, including conservation and heritage protection and land surveying. Others secure positions that utilise their transferable skills such as management consultancy, PR, marketing and financial roles.
Recent graduates from the School of Geography have gone on to work for organisations such as the British Geological Survey, Capita, Grant Thornton, Historic England, Network Rail, Swiss Re, Teach First, and Tesla Motors.
Professional accreditation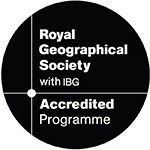 This course is accredited by the Royal Geographical Society (with the Institute of British Geographers).
Employability and average starting salary
97.4% of undergraduates from the School of Geography had secured work or further study within six months of graduation. The average starting salary was £22,000 with the highest being £36,000.*
* Known destinations of full-time home undergraduates who were available for work 2016/17. Salaries are calculated based on the median of those in full-time paid employment within the UK.
Careers support and advice
Studying for a degree at the University of Nottingham will provide you with the type of skills and experiences that will prove invaluable in any career, whichever direction you decide to take.
Throughout your time with us, our Careers and Employability Service can work with you to improve your employability skills even further; assisting with job or course applications, searching for appropriate work experience placements and hosting events to bring you closer to a wide range of prospective employers.
Have a look at our careers page for an overview of all the employability support and opportunities that we provide to current students.
This school offers programs in:
Last updated October 17, 2018