International College of Liberal Arts - Yamanashi Gakuin University
Home ›
Japan ›
International College of Liberal Arts - Yamanashi Gakuin University
Choose liberal arts. In Japan.
The International College of Liberal Arts at Yamanashi Gakuin University is a 4-year, residential, American-style liberal arts college, with all courses offered in English. Studies at iCLA lead to a Bachelor's degree in International Liberal Arts. Students can choose from an array of courses in various disciplines, and, after one year of Foundation Courses, can decide on one of the eight concentrations that iCLA currently offers: Economics, Political Science, Sociology, Language Arts (Literature, Linguistics), Philosophy and Religious Studies, Music, Arts, and Performing Arts. Picturesquely located at the foot of Mt. Fuji, in the heart of what was known in the medieval times as Kai Country, the YGU Sakaori Campus is home to the iCLA complex (Residential Halls and Classroom Building). iCLA is only 90 minutes west of Tokyo and offers students unique opportunities to immerse themselves in the very essence of Japan and its culture.
Eight Reasons
A True Liberal Arts Education: Interdisciplinary EngagementStudents engage in a multitude of subjects, pursuing a breadth of knowledge in a range of domains. This approach fosters humans with depth and insight: lifelong learners. Students choose courses that challenge assumptions, kindle passions, and ignite dreams.
Classes Taught in English: An International Faculty A large majority of the iCLA faculty members are citizens of nations other than Japan and nearly all of the classes are taught in English, with the exception of some traditional Japanese arts courses. The education at iCLA meets international standards.
EAE Intensive English Program: English for Academic ExcellenceOur English for Academic Excellence (EAE) program is an intensive English-language academic component which cultivates reading, listening, speaking, and writing skills with the objective of fostering sufficient proficiency to enroll in rigorous academic courses in English. Depending on proficiency, all non-native speakers of English may need to enroll in the program during their first year of study at iCLA.
One Year of Study Abroad: A World of OptionsiCLA has established a network with dozens of universities on three continents where students may study during their mandatory year of study abroad.
Small Classes and A Low Faculty-student Ratio: Direct Communication with InstructorsSmall interactive classes are at the core of our pedagogical approach. The low faculty-to-student ratio fosters close connections between instructors and students and enhances communication and collaboration among students themselves.
Critical, Creative, Independent, and Global Thinking: CCIG ThinkingThe iCLA curriculum was designed to cultivate critical, creative, independent, and global thinking. iCLA students learn how to acquire and analyze knowledge in order to create their own answers to age-old questions.
Writing Across the Curriculum (WAC): Broadening SkillsIn the four-year WAC academic component, students write a series of papers centered on a single topic of their choice selected from a list of relevant problems of the contemporary world.
Cross-cultural Living in Innovative Facilities: International DormitoriesUpon arriving at iCLA, all first-year students must live in the dormitories for at least one year. Gender-specific dormitories have single-rooms organized into larger units with a mixed, international student population.
A Global College Experience. At the Foot of Mt. Fuji.
Small Classes and Highly-trained Instructors: Incoming cohorts are capped at 80 students and the standard size of any given class is less than 20. Our faculty holds advanced degrees from elite institutions and hail from all over the world. Our small class size and experienced faculty put a premium on student-centered learning – the foundation of the education at iCLA. Our mission is to create an environment where students discover where their passions lie. The intersection of talent, passion, and knowledge informs the continuation of their studies at iCLA. Instructors lead classes through discussion, fostering active student participation. An Interdisciplinary Curriculum in State-of-the-Art facilities The iCLA curriculum offers a broad range of foundation courses, covering humanities, social sciences, quantitative reasoning, health and physical education and natural sciences. In addition to the eight concentrations we offer – Economics, Political Science, Sociology, Philosophy and Religious Studies, Arts, Music, Language Arts (Literature, Linguistics), Performing Arts – iCLA also offers a unique Japan Studies Program, combining academic lectures with hands-on workshops. Through the latter, students acquire skills and knowledge no longer readily available such as playing traditional Japanese instruments or learning the harmonious structure of the tea ceremony. By experiencing what iCLA has to offer, students find interstices between knowledge, skill, instinct, and vision. The iCLA building and dormitories were designed by the world-renowned, Pritzker Prize-winning architect Toyo Ito and are furnished with the latest technical equipment for academic instruction. The dormitories are likewise modern and elegant. Degree-seeking Japanese and international students, as well as exchange students, live together in the dormitories, while the first-floor cafeteria represents the ideal space for conversation and commonality. World-class Japanese Language and Japan Studies Programs The Japan Studies Program consists of the Japan Area Studies Program and the Japanese Language Program. Japan Area Studies courses are embedded within the liberal arts curriculum to ensure they have a strong academic base from which to teach students about Japan from a number of disciplinary perspectives. The Japan Area Studies Program is proud to host a number of workshops on Japanese tradition and martial arts taught by experts. Among those, our students can experience noh theater, koto (Japanese harp) and shakuhachi (bamboo flute), Zen Buddhism, shodō (calligraphy), sadō (tea ceremony), kadō (flower arranging), as well as aikidō, jūdō, and karate, to name a few. The Japanese Language Program offers all levels of language courses, including professional Japanese writing, newspaper reading, and public speaking. The Language Acquisition Center provides a Japanese Writing Desk Service to support Japanese and international students perfect their writing skills.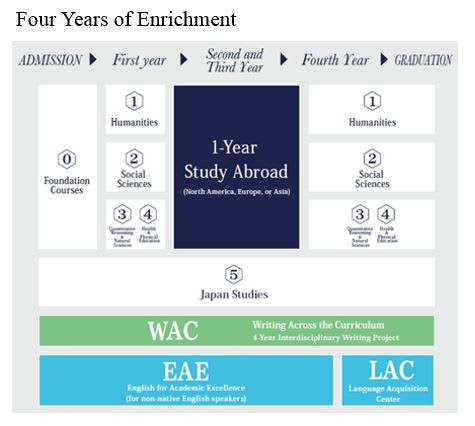 First Year
During the first year of study at iCLA, students focus on English or Japanese-language development (for those who need it) as well as on foundation courses. A Center for International Exchange Students who are accepted to iCLA joins the community by taking residence in the student dormitories. Our dormitories house an eclectic group – degree-seeking Japanese and international students, as well as exchange students – creating a global environment that promotes international exchange. This international environment provides plenty of opportunities to practice foreign language skills, whether Japanese or English.
Second Year
During the second year, students must select a concentration from among the following currently offered: Economics, Political Science, Sociology, Philosophy and Religious Studies, Arts, Music, Language Arts (Literature, Linguistics), and Performing Arts. Writing Across the Curriculum Part and parcel of the iCLA curriculum, the Writing Across the Curriculum (WAC) component is rooted in the belief that whole-person education entails, among others, the ability to articulate sophisticated research topics in writing across fields of study and expertise. The WAS component challenges students to develop writing and thinking skills and encourages them to synthesize various domains of knowledge encountered throughout their undergraduate studies.
Third Year
By the third year, students are expected to competently synthesize the knowledge acquired and prepare to develop their own positions in regards to their concentration and chosen topic of research. The study abroad destination plays a major role in fostering increasingly sophisticated educational opportunities. Selecting a Study Abroad Destination All iCLA students are required to study abroad two semesters. They may start their study abroad component during their second or third year of study and choose a host institution from our 45 partner universities in 33 countries where they can further develop knowledge and experience that will contribute to their studies in their area of concentration. As all iCLA study abroad programs are based on mutual tuition waiver agreements, our students get easy access to top universities around the world.
Fourth Year
In the fourth year, students complete the final requirements of their foundation courses as well as a graduation project in their concentration. Graduation Research Project Upon completing their concentration credits and accumulating a total of 124 credits, Japanese language, study abroad and all other academic requirements, students write a thesis which brings together what they have learned during their four years of study under the careful guidance of their advisor. Personalized guidance on options after graduation is also available for each student. Graduates of the iCLA will receive a Bachelor of Arts (B.A.) degree in International Liberal Arts.
How to apply
To apply for admission, applicants must meet the following criteria: 1. Applicants are foreign nationals or Japanese with dual nationality. 2. Applicants hold or are expected to hold a high school diploma, or can demonstrate equivalent academic ability to a Japanese senior high school graduate as per Article 150 of the Ordinance for Enforcement of the School Education Act. 3. (Applicable only to students from non-English-speaking countries) Applicants who can demonstrate English language proficiency with a TOEFL iBT score of 76, a TOEFL PBT score of 540, or an IELTS score of 5.5 in order to take iCLA courses in English. Application Procedure:
Register and complete online application at https://ygu.applyjapan.com/.
Submit all required documents (official documents and certified copies).
Pay the screening fee through the online application system. (Screening fee for international students: 10,000JPY)
Screening Method: Applications are evaluated based on a comprehensive review of all documents, including the essay (Statement of Purpose), and an interview. The announcement of Results: Applicants will be contacted individually by email regarding admissions and scholarship results. For more details, please see our Application Guidelines (2016-2017) below: https://www.icla.jp/news_data/09292016FINAL.pdf
Locations
Kofu
Yamanashi Gakuin University
Address
Yamanashi Prefecture, Japan
Kofu
,
Yamanashi Prefecture
,
Japan